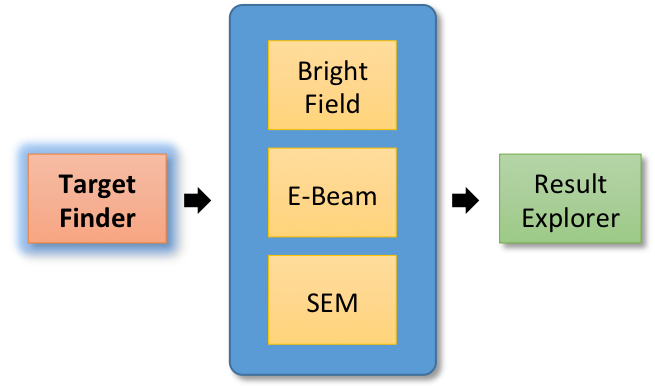 Bright Field inspection tools, E-Beam inspection tools, and SEM review tools need guidance in the form of rectangular care areas and point coordinates to allow these tools to optimize defect discovery.
Bright Field tools have the benefit of speed that allows them to inspect large areas of each die, but if these areas are not segmented into different threshold regions, these tools will suffer from at least two problems:
They will use a single threshold region that will significantly reduce their sensitivity to a broad spectrum of defect types.
They will generate a large number of nuisance defects.
E-Beam tools have the benefit of high resolution, but are significantly slower. Large area scans are simply out of the question for production line monitoring.
SEM review tools are designed for point-to-point image capture and typically have a throughput of between 1000 and 3000 images per hour, which is still comparatively slow.
What is needed is a tool that can generate intelligent targets for these tools that take into account the need for broad defect discovery within a reasonable amount of time while minimizing nuisance defects. Target Finder addresses this need through comprehensive design-assisted features such as:
Pattern Segmentation
Separate or segment the pattern in many different ways based on either geometric properties or specified patterns and their variations.
Generate both macro and micro care areas using (a) exact match, (b) topologically similar match, (c) parametrically similar match, and other methods.
Optimized FOVs

E-Beam tool efficiency requires us to fit the maximum number of targets or care areas into the smallest number of FOVs while adhering to constraints such as the amount of overlap between FOVs.
Target Finder has been shown to generate E-Beam FOVs that result in 30% reduction in inspection time!
Tools for discovering
the more yield-critical areas of a design and driving inspection tools to those areas.
Main Benefits:
Set of Linux functions that provide leading-edge pattern search and pattern signature extraction capabilities.
Not only exact pattern search, but multiple methods for "similar pattern" search. Similar search is increasingly important as there are often slight variations of key patterns that would be too numerous to define individually with an exact search algorithm.
Customers can embed these capabilities into their own automation workflows.
Main Features:
Exact pattern search.
Pixel based similar pattern search.
Topology based similar pattern search.
User-defined similar pattern search.
Center-exact-periphery-similar pattern search.
Zone based pattern search.
Predefined pattern search (formerly known as YAM).
Full chip critical area analysis (CAA).
Full chip design density analysis.
Design signature extraction.
Target Finder is an upgrade of DPE:
Existing DPE customers may contact Anchor Semiconductor for details on obtaining this upgrade.
DPE will continue to be supported with bug fixes (patches).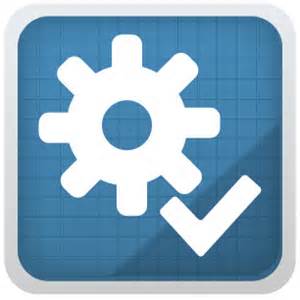 The minimum system requirements are listed below:
Linux 2.6 or later, 64-bit, x86 based processor.
16 or more physical cores.
128 GB or more physical memory.
2 TB or more available hard drive capacity.
Target Finder supports both multi-threading and distributed processing (server farm).
Memory and hard drive requirements can vary substantially from customer to customer. Customers who expect to store large quantities of images on the server should allocate appropriate hard drive capacity. Customers who expect to process large numbers of images should allocate additional physical memory. Anchor Semiconductor will help each customer with the appropriate sizing of their hardware.